Coming soon…ON STRIKE! A video broadcast with Kshama Sawant & Bia Lacombe
The world is a mess. Workers are falling behind. The climate is out of control. The right wing is on the attack, and the Democrats have done nothing to fight back. War is escalating, and for working people, life is one crisis after another.
Corporate media – from CNN to MSNBC and Fox News – are full of lies and diversions, as they try desperately to prop up the system that makes them rich. Even many so-called progressives and independents have refused to criticize the people who got us into this mess, or point a clear way forward.
We need media that will tell the truth. We need working class media, which doesn't just comment from the sidelines, but that puts forward the fighting strategies necessary to win.
That's why Workers Strike Back is launching our video broadcast, On Strike.
On Strike is a different kind of political broadcast. Our aim is to use this show to help build movements of working people, in our workplaces and on the streets. We unambiguously stand with the working class AGAINST the billionaires and their political servants. We discuss and analyze events from the point of view of workers, not the bosses.
Mark your calendars – THURSDAY, SEPTEMBER 14 – and tune into the first episode of On Strike, with Kshama Sawant and Bia Lacombe. Workers Strike Back activists around the country will organize watch parties to meet up, watch the first episode together, and begin discussions about building Workers Strike Back nationwide.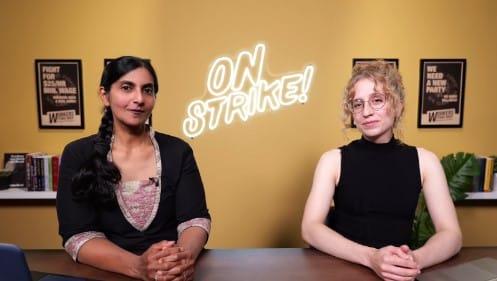 We need your support to make the launch of On Strike a success. Here's what you can do:
SUBSCRIBE to our YouTube channel, where we will release the first episode.
FOLLOW On Strike social media pages on Twitter, Instagram, TikTok, and Facebook and share our promo video!
Interested in attending an On Strike watch party, or organizing one yourself? Reach out to us at

[email protected]

!
And importantly: it takes serious resources to build a successful national broadcast, and a national movement that can help reverse the tide of sellouts and attacks and win big victories for workers.
As we enter the 2024 election, we need fighting organizations – not Democratic Party stooges. Give $30, $100, or $500 to On Strike and Workers Strike Back today to help us build a broadcast that will put forward fighting strategies and organize a movement to win.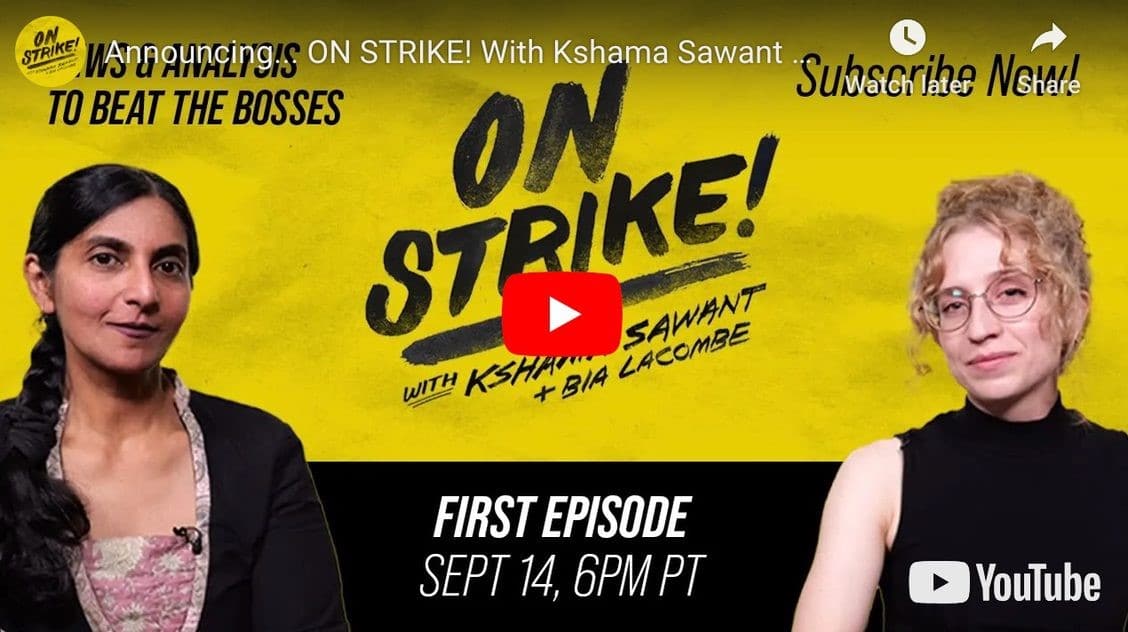 Click here for a sneak peek of On Strike and share our promo!
Workers Strike Back has already achieved so much. We're organizing alongside UPS workers campaigning for a strong contract and a "NO" vote on the current proposal. We've raised over $20,000 to support Amazon workers fighting for $30/hour and a union at the heart of Amazon's empire, the KCVG air hub in northern Kentucky. Alongside Councilmember Kshama Sawant, we won a historic ban on caste discrimination in Seattle, the first in the world outside South Asia. We have organized rallies in dozens of cities to defend trans rights and to defend the right to strike.
We need democratic, rank-and-file organizations to take on the challenges facing us, from the cost-of-living crisis to climate change. And we have important decisions to make, including the important question of whether Workers Strike Back takes on building Cornel West's independent left campaign for President.
Start a monthly donation of $5/month or more, and help build Workers Strike Back for the long term.
Let's build a movement to take on the bosses and their political servants. Tune in Thursday, September 14 for the first episode of On Strike with Kshama Sawant and Bia Lacombe.
Make a one-time donation to support On Strike
❖
_________________________
My work is entirely reader-supported, so if you enjoyed this piece please consider sharing it around, following me on Facebook, or Twitter, or throwing some money into my tip jar on Patreon or Paypal. The best way to make sure you see the stuff I publish is to subscribe to the mailing list for at my website which will get you an email notification for everything I publish. Everyone, racist platforms excluded, has my permission to republish, use or translate any part of this work (or anything else I've written) in any way they like free of charge. For more info on who I am, where I stand, and what I'm trying to do with this platform, click here.