Clip source: A Tale Of Two Speeches – Russia Briefing News
February 22, 2023 Posted by Russia Briefing Written by Chris Devonshire-Ellis
Unpacking the differences between Putin and Biden's speeches
Here at Russia Briefing we tend to keep away from politics and discussions about the Ukraine conflict as these are far better covered elsewhere, and anyway, the main focus of our intelligence is Russian trade and investment. However, the sight of two Presidents, one Russian, the other American, giving their respective speeches concerning arguably the same topic, but with wildly differing perspectives deserves some attention. These differing portrayals are important as they shed some light on the mindset between the two countries and the likelihood for any resumption of normality – or otherwise.
Background
An underlying theme of both speeches were that they were made in part with a domestic audience in mind rather than an international one. Russia is set to contest regional elections, including within the disputed Donbass regions in September this year, followed by Russian Presidential elections in March 2024.
The United States is to hold gubernatorial and some State elections in November this year, with Biden is set to announce himself as a candidate for the Presidential elections a year later. In this respect both speeches are partially aimed at domestic voters as well as an international audience of interested parties on both sides.
Putin's Speech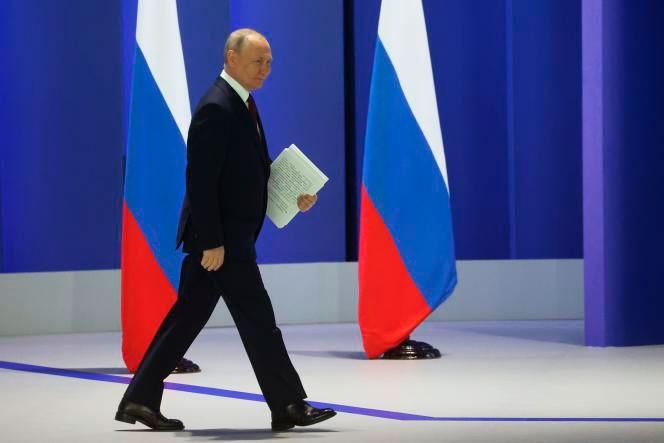 In terms of presentation and style, Putin's speech was by far the more formal with it being held at the State Federal Assembly in Moscow. It was streamed live in Russian, with translations into various languages. It was notable that some of the translated feeds available in the West were corrupted with nonsense words being broadcast instead of accurate prose, being either a gremlin or a deliberate attempt at censorship for a non-Russian speaking audience.
Putin's speech lasted close to two hours and covered a variety of issues, including the Ukraine conflict, the geopolitical conflict with the West, the state of the Russian military and supply chains, as well as domestic social issues and measures being taken to enhance and improve these. He also discussed the Russian economy, infrastructure development, finance, and the overall state of the Russian economy in 2023 as well as Russia's international relations.
In style it was highly traditional, corporate, and detailed, with some sops to the national audience in terms of tax cuts and other incentives, mixed with patriotic statements. The audience was reserved with polite applause greeting the more popular statements, and was a speech designed to be listened too rather than be wowed by. In short, in its presentation it was a standard Presidential style speech as is generally given by global leaders: short on pizzazz but long on content.
A complete English translation of Putin's speech can be found here.
An abridged version focusing on the trade, infrastructure, finance, and Russian economic development sectors of the same speech, with some analysis, can be found here.
Biden's Speech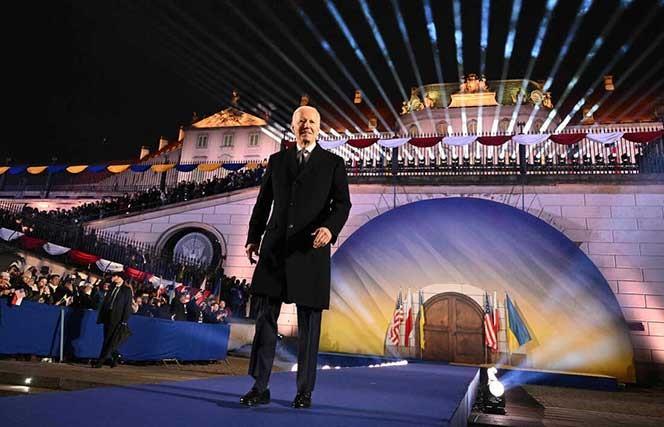 Biden's speech was unusual in that although partially aimed at an American domestic audience it was delivered outside, and overseas, at the Royal Palace Castle in Warsaw, Poland as an effort to express solidarity with Europe. Lasting just 20 minutes, the speech concentrated on the US and Western efforts in dealing with the Ukraine conflict and the US position in supporting this. It did not touch on any other issues other than US support for Ukraine, increased military expenditure and support for the EU.
In style, it was much more showmanship in presentation, with Biden striding onto a stage illuminated by strobes and spotlights, akin to a rock star greeted with loud cheers and the mass waving of flags. His speech can be seen here.
Images of Biden's earlier visit to Kiev were also shown, with the US President, wearing aviator sunglasses, standing with Ukrainian President Zelensky outside St. Michael's Golden-Domed Monastery in Kiev.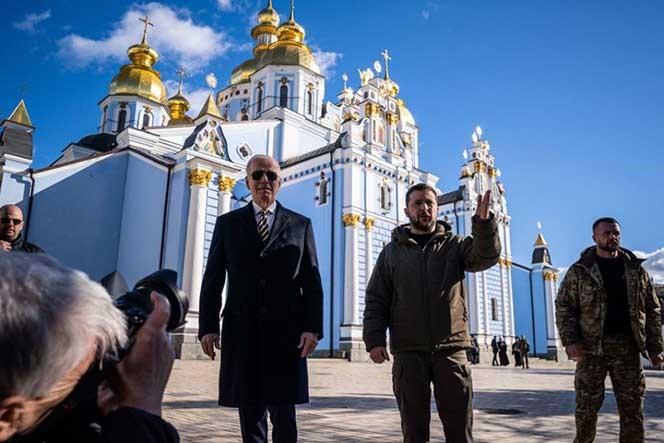 That is an image that many Orthodox Russians will feel deeply uncomfortable with, as the Ukrainian Church split with the Russian Orthodox church in 2018, transferred its ancient, thousand year old allegiance away from Moscow, and banned Orthodox Russians from worshipping in its churches, in effect ex-communicating them.
The image also symbolizes to some extent a Ukrainian and US victory over Russia, while assuming that the Ukrainian and US position is sanctioned by Almighty God, which again will be perceived as deeply offensive to many Orthodox Russians.
The purpose of the imagery and its implications will not have been unnoticed in Russia and will have created considerable discomfort among ordinary Russians. With the Ukrainian President being of Jewish faith, this is not an issue that will concern him, but it remains highly provocative and was designed to be deliberately so.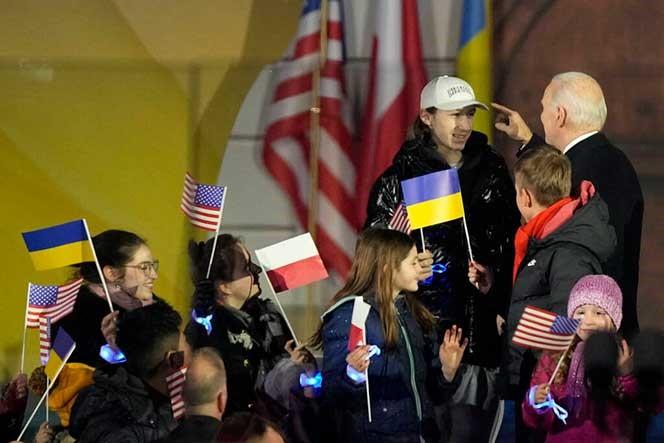 Also shown was an image of President Biden surrounded by Ukrainian children with the US President being shown in a Fatherly style portrait.
The issue these images present is the question 'Why?' These are more akin to a US President selling something rather than delivering in depth, detailed speeches.
There are some issues that thus far has been played down in Western media, suggesting massive compliance with the overall message in terms of presenting the US President as fully wholesome. These include:
Nordstream Explosions
The White House has denied any involvement, however the US, Pulitzer winning journalist Seymour Hersh issued an investigative report that the US was behind the sabotage of the Nord Stream gas pipelines. Russia has requested a UN Security Council Summit on the matter, while it can be expected this will be abandoned as the US itself will veto any investigation. The issue is important as the attacks on the pipelines can be considered an act of war, with further, future implications should the perpetrators go unpunished. Getting to the bottom of this is of global security importance – yet the issue is being suppressed. Why, and by whom and to protect who, are leading questions.
US Gas Supplies To Europe
With Nordstream out of action, the US has stepped up to supply the EU's gas. But US companies appear to have been taking excessive profits when selling to Europe, while the major US and European energy companies have been making record profits at the expense of everyday European consumers. Is this entirely benign?
Weapons Supplies
The direct military sales by U.S. companies rose 48.6% to US$153.7 billion in 2022, much of that sold to European nations to help in the fight 'for Ukraine'. EU budgets have been revised upwards to buy even more. Meanwhile, the US has told China not to supply weapons, earning it a retort from Beijing who said that it was the US who was pumping weapons and ammunition into the country. Is the US weapons industry creating conditions to sell more product?
None of these issues, nor matters related to the European or US economy were discussed in detail, although they were directly implied – Bidens speech was purely about the need to continue to support Ukraine and Europe in terms of 'support' and 'military assistance'.
The issue remaining then, given the rock-star treatment and macho poses outside churches and with children, something that Putin has completely avoided – is what is President Biden trying to sell? Because the entire presentation resembled a political advert, dressed up for the easily impressed.
With Polish GDP growth slowing in 2023 to less than 1%, and inflation reaching 17.2% in January, there is more than one way to wreck an economy without using tanks and weapons. By selling it energy and weapons, the real test of Poland's economic sovereignty is where it can go from here given that Joe Biden is now the apparent President Emeritus and outwardly ranks more senior in Polish politics than Andrzej Duda.
Vladimir Putin, meanwhile, remains the President of Russia. How Europeans feel about both of these developments will become key in determining where this conflict and the selling of it goes next.
---
Tomorrow (Thursday) we will return to Russian trade and investment discussions.
Related Reading
US-China Relations in the Biden Era: A Timeline
❖
_________________________
My work is entirely reader-supported, so if you enjoyed this piece please consider sharing it around, following me on Facebook, or Twitter, or throwing some money into my tip jar on Patreon or Paypal. The best way to make sure you see the stuff I publish is to subscribe to the mailing list for at my website which will get you an email notification for everything I publish. Everyone, racist platforms excluded, has my permission to republish, use or translate any part of this work (or anything else I've written) in any way they like free of charge. For more info on who I am, where I stand, and what I'm trying to do with this platform, click here.